Automated Bagging Machines
Table Top Bagging Machines
T-375 - The table top with all the options
Video of T-375 Printed Bags per minute using Optical Light Sensor
Video of T-375 bagging multiple different parts
Video of T-375 with Partition Table
Video of T-375 integrating with robotics
T-375 & T-300 Bagging Machines
The
T-375
perfectly incorporates the most efficient bagging technology with a Zebra thermal transfer printer for "next-bag-out" printing. This patented feature allows for printing, just prior to loading which guarantees accurate labelling. You can now package quantities of just one part number! Adjustable cart available!
The T-300 has the all the great functionality of the T-375 but without the printing option. The T-300 is the ideal simple and cost effective bagging machine.
Four colour screen with pop-up windows
Diagnostic and troubleshooting screens
Preset and totalising bag counter
Automatic "paced" operation with fill time delay timer
Universal, adjustable parts chute
Adjustable support shelf
Blower with flow controls
One year limited parts warranty
Seal mechanism 1/8″ Solid heater bar
Cycle operation Automatic paced
Bag size range (10″ rolls) 50mm x 50mm – 2″ x 2″ up to 280mm x 410mm – 11″ x 16″
Guard-switch feature Standard
Product pass-through 75mm upto 130mm  3″ to 5″
Electric 240V/60Hz
Air .50psi
Dimensions  510mm W x 360mm D x 540mm H –  20″ W x 14″ D x 21″ H
Weight 50kgs/ 56kgs  –  110 lbs./125 lbs.
T-375 Bagging Machine Integrating with Robotic Arm
Uniquely…..
The T-375 is the only machine in the tabletop category with the capability to integrate with third party automation and robotics.
The T-375 integrates with APP's and third party automation machines and devices
Robotics…..The T-375 can also be supplied with an auxiliary interface which communicates with the robotic arm ensuring the bag only cycles when the part(s) are safely in the bag. The interface also tells the robotics if there is a problem, for instance when the T-375 runs out of bags, no parts ending up the floor.
If you need more information on Robotic integration
Production Bagging Machines
T-1000 The most reliable bagging machine in the market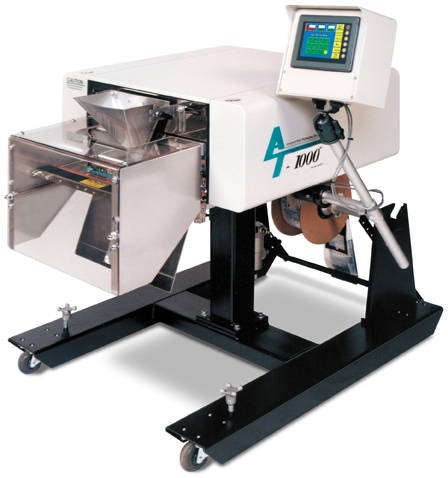 Video of T-1000 bagging multiple parts
If you need more information…
AMAZON – The perfect solution for selling liquid products through AMAZON
Weight 123kgs / 146kgs  –  275 lbs. 325 lbs.
Dimensions   940mm W x 107mm D / 120mm W 920mm D  –  37″ width x 42″ depth 47″ width x 36″ depth
Memory 32 job saves / 999 label saves
Load Height 760mm – 104mm /   30 – 41″
Cycle Rate  up to 80 bags/min.*
Seal Bar  138mm /  460mm  –  15″ wide bronze 18″ wide bronze
Bag Size Minimum 50mm x 76mm / 100mm x 150mm –  2″ x 3″ 4″ x 6″
Bag Size Maximum 360mm x 760mm / 460mm x 910mm  –  14″ x 30″ 18″ x 36″
Product Pass Through   Upto 200mm –  4″ (up to 8″)
Electric 240/220V, 60/50Hz 240/220V, 60/50Hz
FLC 10 amps 10 amps
Air 1.5 cfm, 80 psi 1.5 cfm, 80 psi
Touch Screen Funnel,
Foot Switch Guards,
Manual 1 Year Parts Warranty Included – extendable to 24 months
T-1000 & T-1000W Bagging Machines
The T-1000 Advanced Poly-Bagger™ is our "top-of-the-line bagger". It is no wonder the T-1000 is also our best-selling machine! Designed for long or short runs, the T-1000 has the capability of cycling over 60 bags per minute, faster than any operator could manually feed. The T-1000 is also fast enough to keep up with automatic infeed equipment including vibratory bowl counters, scales and infeed conveyors. The T-1000 Advanced Poly-Bagger™ is also designed to run inline with punch/stamp presses, injection mold machines, blister machines and other continuous feed manufacturing equipment for inline bagging.
The T-1000 Advanced Poly-Bagger™ can reduce your packaging costs with high speeds, versatility, reliability and simplicity.
"User-Friendly" Touch Screen Interface Panel: Change settings "on the fly", turn on counters or other options, control machine speed, or other auxiliary equipment. Programmable for up to thirty settings. Quickly position the operator panel wherever you desire with a long arm extension and ball joint mounting bracket.
Patented "Teflon Shield™" moves Teflon away from heater bar, except when sealing, for extended Teflon life up to 10 times the life of standard sealers.
Uses Advanced Poly-Bags™ (pre-opened bags on rolls, manufactured by Advanced Poly-Packaging, Inc.) with sizes ranging from 2″ x 3″ to 14″ x 30″ and thickness from 1 mil to 5 mil. T-1000 "Wide" uses bags ranging from 4″ x 6″ to 18″ x 36″.
Designed with a small footprint and equipped rugged casters, the T-1000 Advanced Poly-Bagger™ is designed for easy movement to various production cells throughout your plant.
The T-1000 Advanced Poly-Bagger™ is crafted from the highest quality components and materials to withstand the most rigorous manufacturing environment. We guarantee long life with minimal maintenance (one year parts warranty).
Energy Conservation & Component Saver provides for extended component life. The T-1000 Advanced Poly-Bagger™ is programmed to turn off components when not in use including the touch screen, motor, air and heater bar.
Four internal counters are standard: 1) Preset Counter – the bagger stops when the predetermined count has been reached. 2) Totalling Counter – reset this counter at the beginning of each shift or day to record packaging production over a period of time. 3) Continuous Strip Counter – set the number of bags (not separated at the perforation) to feed in a continuous strip. 4) Maintenance Counter – total machine cycle counter for preventative maintenance/component inspection intervals.
Anti-Jam Device – Detects obstructions in the seal area, automatically reverses the pressure bar and stops the cycle operation.
Technical assistance screens provide access to INPUT/OUTPUT IO without removing covers.
Pop-up troubleshooting screens indicate operation messages as well as fault conditions.
Video showing T-1000 Bagging Machine integrating with Robotics – Automatically bagging multiple bearings
T-1000H & T-1000H Wide Bagging Machines
The T-1000 Horizontal Bagger™ perfectly offers versatile solutions to packaging a wide variety of products that are difficult to load on a vertical bagger. It's perfect for a variety of products including shirts and other clothing, towels and sheets, gasket kits, large gaskets, filters, manuals, kits with instructions, coils of rope or cable, bread or other bagged goods, and more!
Manually slide your product horizontally into the bag, or automatically push the product into the bag and your bagger does the rest! After the product enters the bag, the bagger seals the bag at the loading station and automatically discharges the product on an opptional horizontal take away conveyor or a bin. The next bag is then indexed into position and blown open, ready to receive the next product.
Adjustable angle – let gravity do most of the work!
The LC-10 Light Curtain is a standard feature, making your system safer
Helps meet quality standards because your are closer to the bag and can visually inspect product as it's entering the bag
Patented "Next Bag Out" printing option virtually eliminates mislabeled bags
BO-30 Bag Opening Device is a standard feature that shapes the bag to fit the product for automatic loading applications; also, available as an option
Standard Touch Screen Operator Panel allows the operator to track production, adjust settings and receive technical operation information. Up to 32 jobs can be saved for instant job changeover. Pop-up numeric keypads and other window and message screens provide fast setting changes and prompt information to operators.
A Solid Bronze Heater Bar maintains constant heat with "independent action" sealing. Coupled with our patented Teflon Shield and Anti-Jam obstruction detection, we guarantee perfect seals and low maintenance.
A horizontal flat belt conveyor removes product from the sealing area to further packing stations. Increased product pass-through for products up to 8″ thick.
Compact design to "fit" in any packaging operation (shown below with optional Ti-1000 Thermal Transfer Printer). Print inline while loading your product; stop applying pressure sensitive labels. Print part numbers, text, logos, graphics and bar codes directly to the surface of the bag. See the Ti-1000 Thermal Transfer Printer Product page for details.
Stainless "Slide" Plate provides a low friction surface with easy-open bag and product guides.
Weight 126kgs / 150kgs  –  282 lbs. 332 lbs.
Dimensions 36″ width x 81″ long
(including 3′ conveyor) 47″ width X 93″ long
(including 4′ conveyor)
Memory 32 job saves 32 job saves
Load Height 40″ 40″
Cycle Rate 100 bags/min.* 100 bags/min.*
Seal Bar 15″ wide bronze 18″ wide bronze
Bag Size Minimum 3″ x 5″ 4″ x 7″
Bag Size Maximum 14″ x 30″ 18″ x 30″
Product Pass Through Up to 200mm – Up to 8″
Electric 240/220V, 60/50Hz 240/220V, 60/50Hz
FLC 10 amps 10 amps
Air 1.5 cfm, 80 psi 1.5 cfm, 80 psi
Touch Screen Funnel, Foot Switch, Guards
Manual 1 Year Parts Warranty Included Included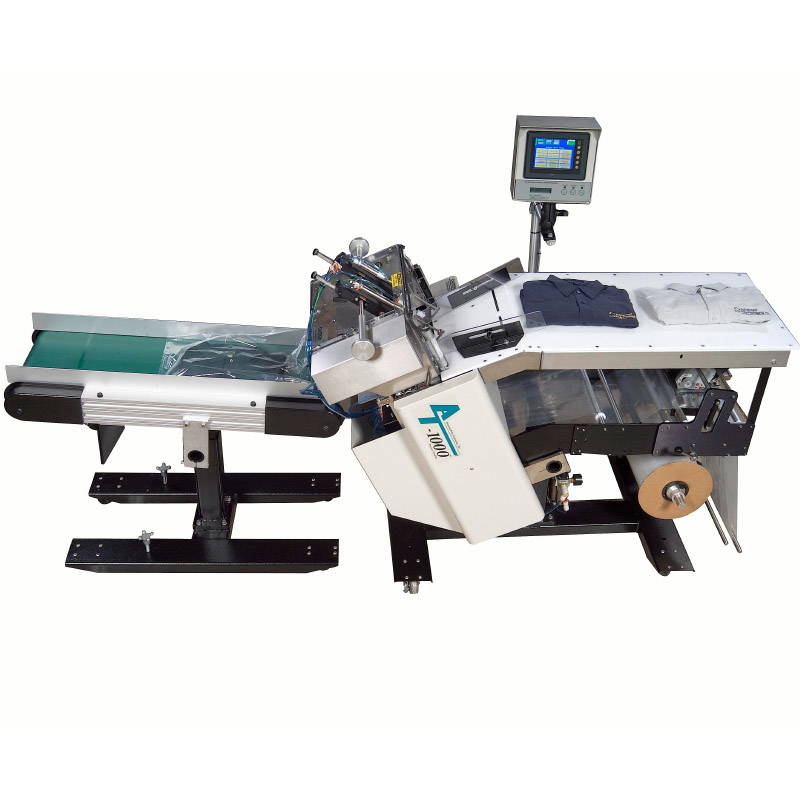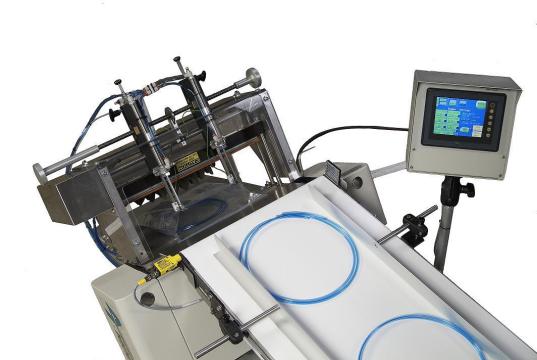 Video of T-1000 Horizontal Bagger in action
Exposed Belt Width 14″ 18″
Length 3′ Standard (up to 100′) 4′ Standard (up to 100′)
Height Adjustable Height & Tilt Adjustable Height & Tilt
Belt Speed Up to 50'/min. Up to 50'/min.
Motor 1/8 HP, DC 1/8 HP, DC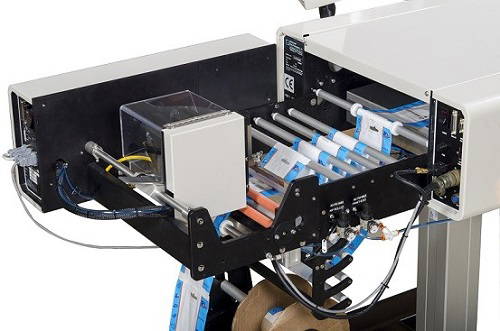 Ti-1000Z RAP Printer
Fastest Printer on the Market
We should have called it our Ti-1000Z "Speedy Gonzalez" Roll-a-Print. Using Zebra print technology and Advanced Poly feeding and registration technology, the newest and fastest of our Roll-a-Print series can print up to 80 bags per minute. Bags feed continuously through the print head at 10" per second for outstanding print quality.
Special Features:
• Perforation or photo optic registration system for precise thermal print registration
• Perfectly integrated with the T-1000, the Ti-1000Z RAP is operated from a single touch
screen that also controls the bagger.
• 203, 300 or 600 dpi print resolution available
• 4", 5" or 8" wide print heads available
• Film accumulator for continuous feeding and tension control
• Full color touch screen/PLC operation with alarm outputs
Contact us if you need more information on Automated Bagging Machines
We have a lot of products and machinery to do the job, if you're having trouble choosing which machine suits your company best, give us a call or drop us an email and we'll be happy to offer our expertise and professional opinion on our machines.
Give Us a Call
Drop Us an Email